Birds of a feather, drawn together
By Yanina Bellini Saibene in English Community
March 6, 2020
By Allison Horst, Curtis Kephart, and Yanina Bellini
Cross-posted: LatinR

Birds of a Feather banner for RStudio::conf(2020)!
The " Birds of a Feather" (BoF) sessions at the 2020 RStudio Conference were a place where R-users with similar backgrounds, interests, and aspirations could connect in a low-stress social setting. In other words - these sessions let "birds of a feather flock together." Building on the 2019 conference swag, we rolled out a bunch of new BoF buttons for rstudio::conf 2020.
Here we'll share the process for how some of the designs were created, including several that truly involved a flock of contributors (names for groups of birds are from Bird Spot).
Well, what can we realistically fit on a 1.5" button?
The cool and challenging thing about designing the BoF buttons was the size restriction. In a 1.5" button, we wanted to create designs that:
Reflect the group name and/or community
Include at least one bird
Are obviously distinguishable for each group
Add some readable text
Oh also, all while setting an approachable tone.
It turns out the answer to "What can you fit on a 1.5" button?" is…actually quite a lot. Here are a few of the designs:
Data science team leaders
Featuring 80's beach volleyball sandpiper coach leading a team of R users: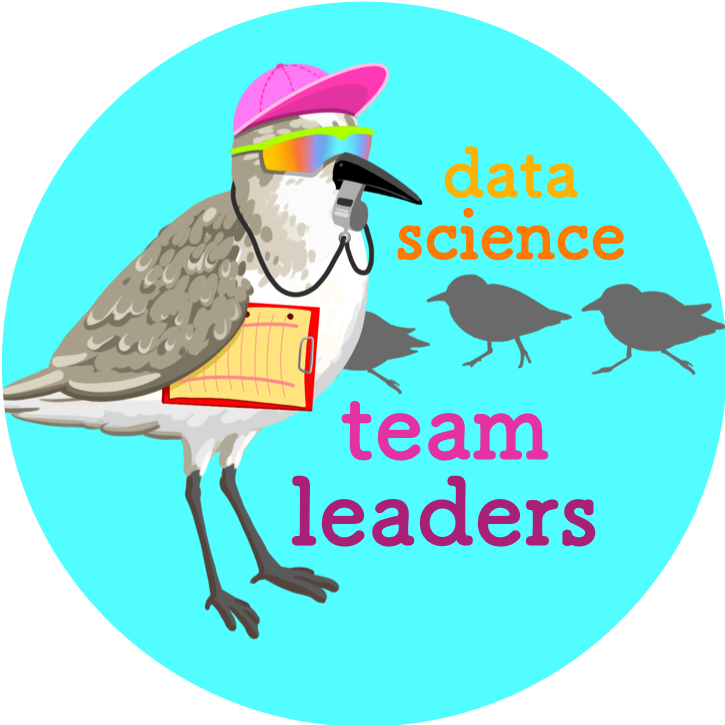 Fun fact: a group of sandpipers can be called a fling or a bind.
Natural language processing
Featuring a wordy bird - a parrot!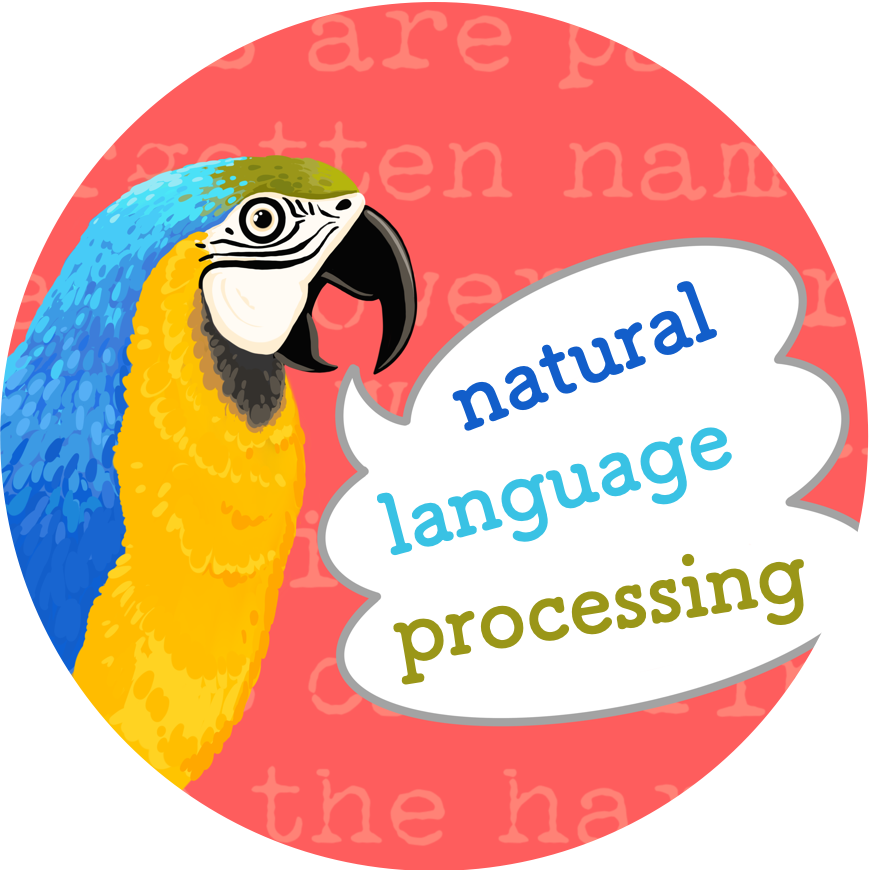 Fun facts: Groups of parrots are sometimes called companies, a prattles, or pandemoniums. Also, parrots are the only birds that can use their feet (like hands) to serve themselves food. And one more thing - the text in the background of this design is a line from Patrick Rothfuss' The Name of the Wind (one of artist @allison_horst's favorite books).
The spatially aware carrier pigeon…
…checking flight routes before setting off on their next delivery: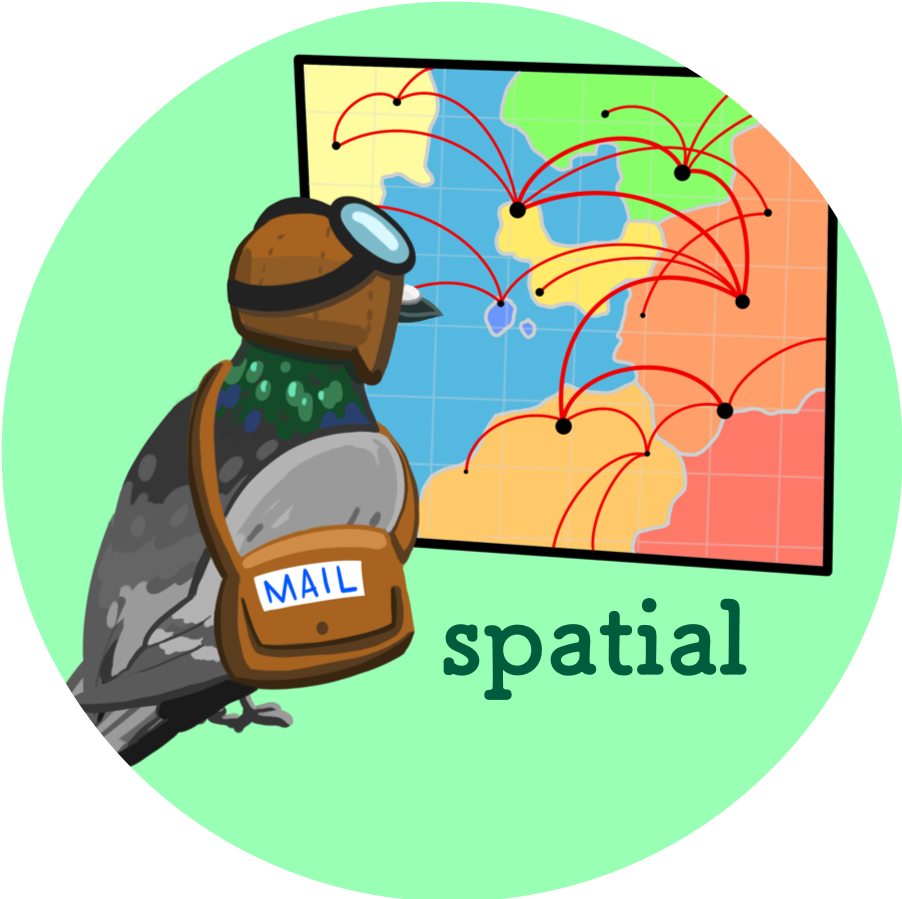 Fun fact: A group of pigeons is sometimes called a kit or a loft.
Community-driven designs
Several of the designs - especially R-Latin America, R-Africa, and R-Ladies - depended on recommendations, insights, and feedback from multiple members of those communities. Here, we'll highlight elements and contributors of several community-driven designs.
R-Latin America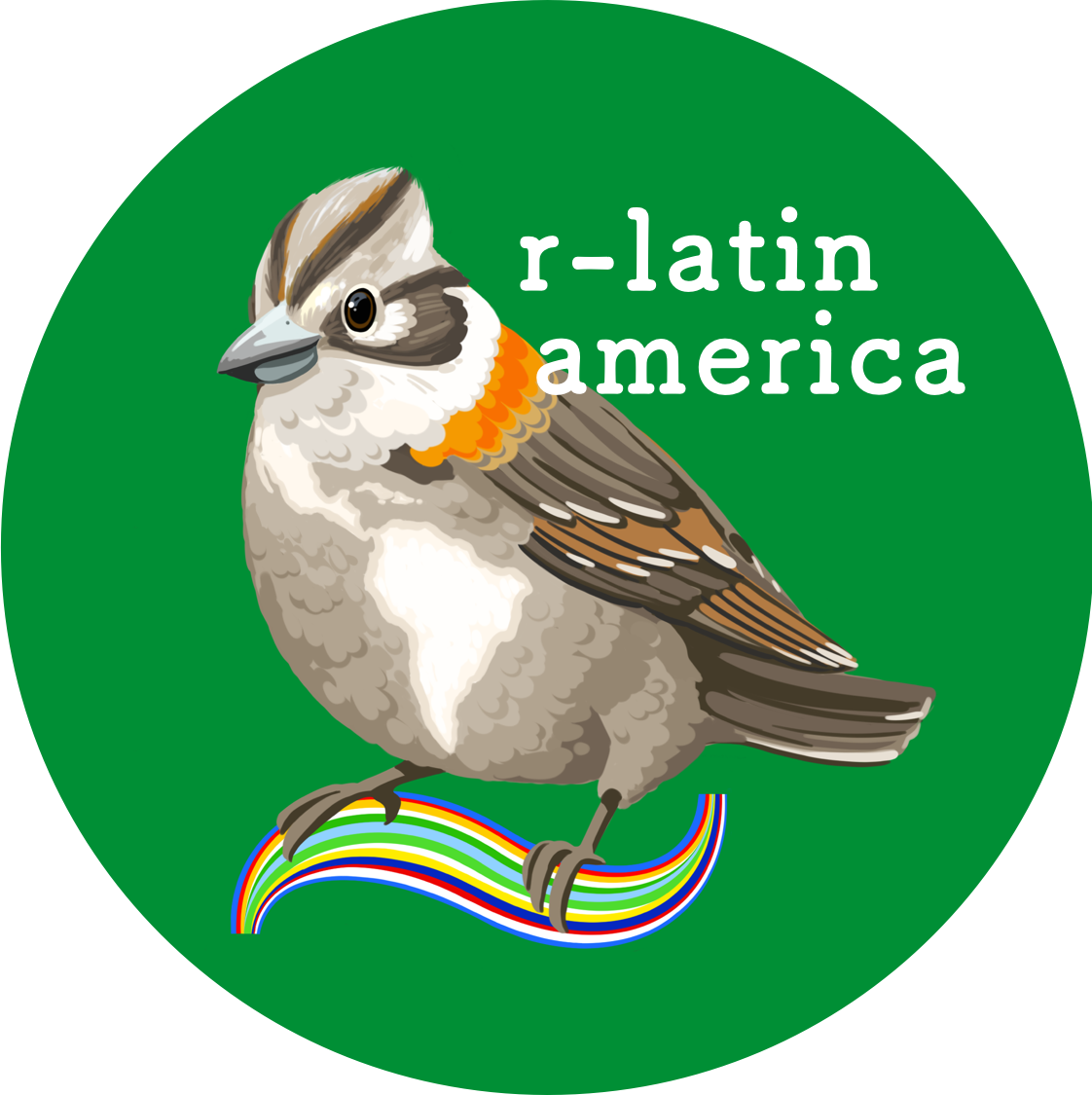 The R-Latin America BoF button was truly a collaborative effort, with every detail - from bird to branch - created based on ideas and input from R-Latin America community members. Massive thanks to the R-Latin America design contributors (and thank you to @yabellini for providing this compiled list & text):
Laura Ación, Marcela Alfaro, Yanina Bellini, Juliana Benitez (expert ornithologist!), Elio Campitelli, Paola Corrales, Florencia D'Andrea, Natalia da Silva, Priscilla Minotti; Riva Quiroga, Vilma Romero, Gabriela Sandoval, Heather Turner; and the LatinR Conference Community!
These contributors are from Argentina, Chile, Costa Rica, Perú, Uruguay and the UK, and belong to R-Ladies Chapters and R User Groups in these countries. The final picture was chosen for the vote of the broader LatinR Conference Community.
Here are some insights into the final design elements:
The bird species is the chingolo (Zonotrichia capensis) which was chosen because it seemed to be the bird that is native to many Latin American countries, and is also unique to Latin America. It was one of a number suggested by ornithologist Juliana Benitez!
The chingolo is standing on a tilde ("~") branch, used in letter eñe (ñ)
The color bands on the tilde represent colors on flags for Latin American countries
The shape of Latin America is represented on the bird's chest
The bright green background is a nod to the astonishing biodiversity in Latin America
AfricaR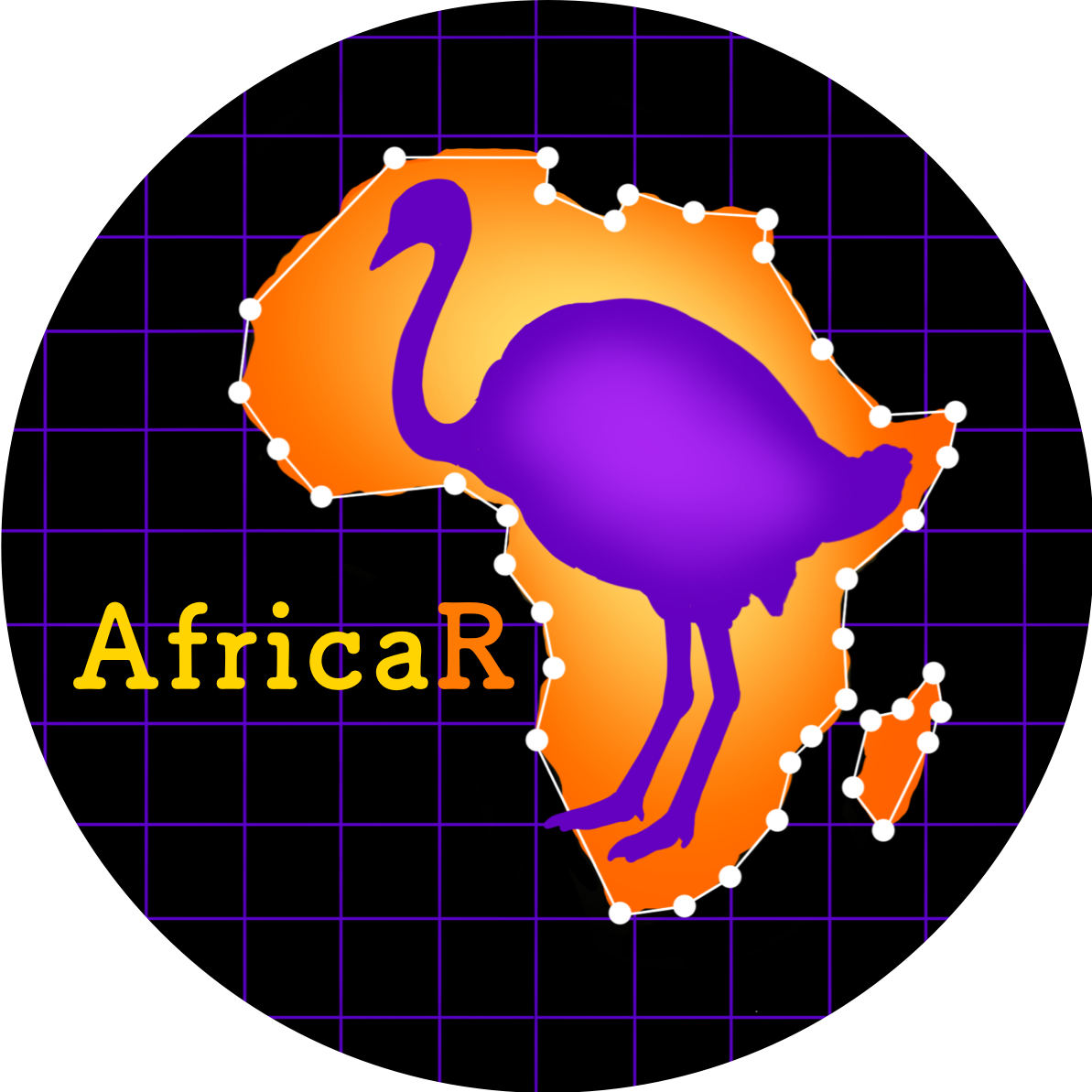 The AfricaR BoF button was designed with suggestions and feedback from AfricaR community leaders Shelmith Kariuki and Dennis Irorere.
Some design elements for the AfricaR button:
The colors (orange, purple and black) are borrowed from (and inspired by) the existing Africa R Users hex design
The shape of the continent is in orange (and outlined by data points, with a ggplot-inspired background grid)
The ostrich was suggested by Shelmith and Dennis as a representative bird
R-Ladies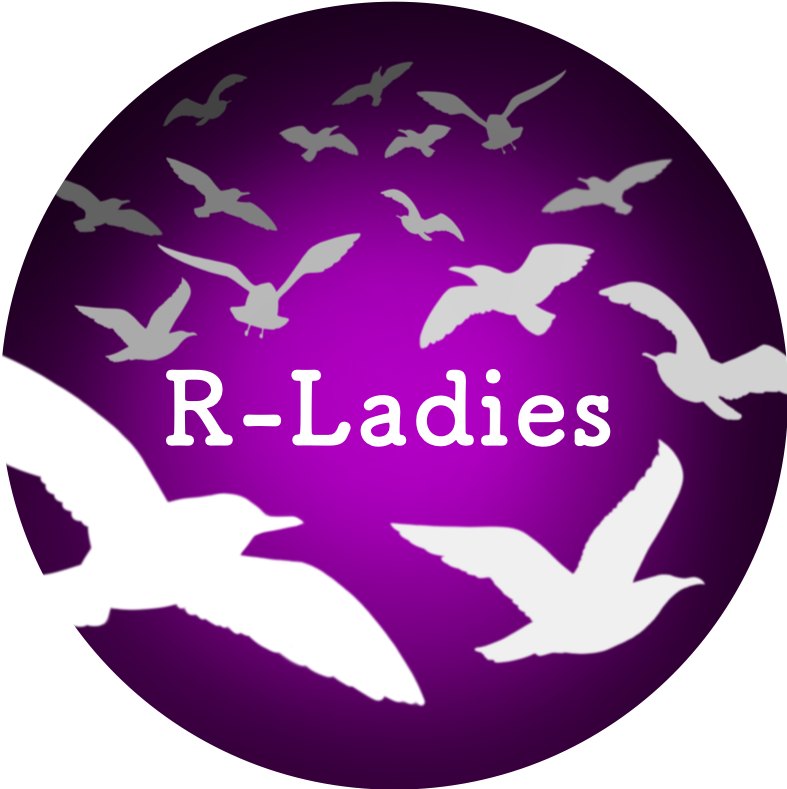 The R-Ladies BoF button started with an idea from R-Ladies founder Gabriela de Quiroz, who suggested a gull as a nod to both R-Ladies' beginnings in San Francisco, and to this year's conference location!
With feedback from Gabriela and the R-Ladies leadership team including Laura Ación and Erin LeDell, and RStudio's Mine Çetinkaya-Rundel, the final design features the following elements:
A flock (or colony) of gulls, species chosen because it's common to San Francisco, where R-Ladies began!
The gulls are riding an updraft of air together
The purple-to-black gradient is inspired by the R-Ladies color scheme
The whole collection
This year, there were 24(!) different Birds of a Feather buttons. When we put them all together, here's the flock for the 2020 conference (with more planned for next year):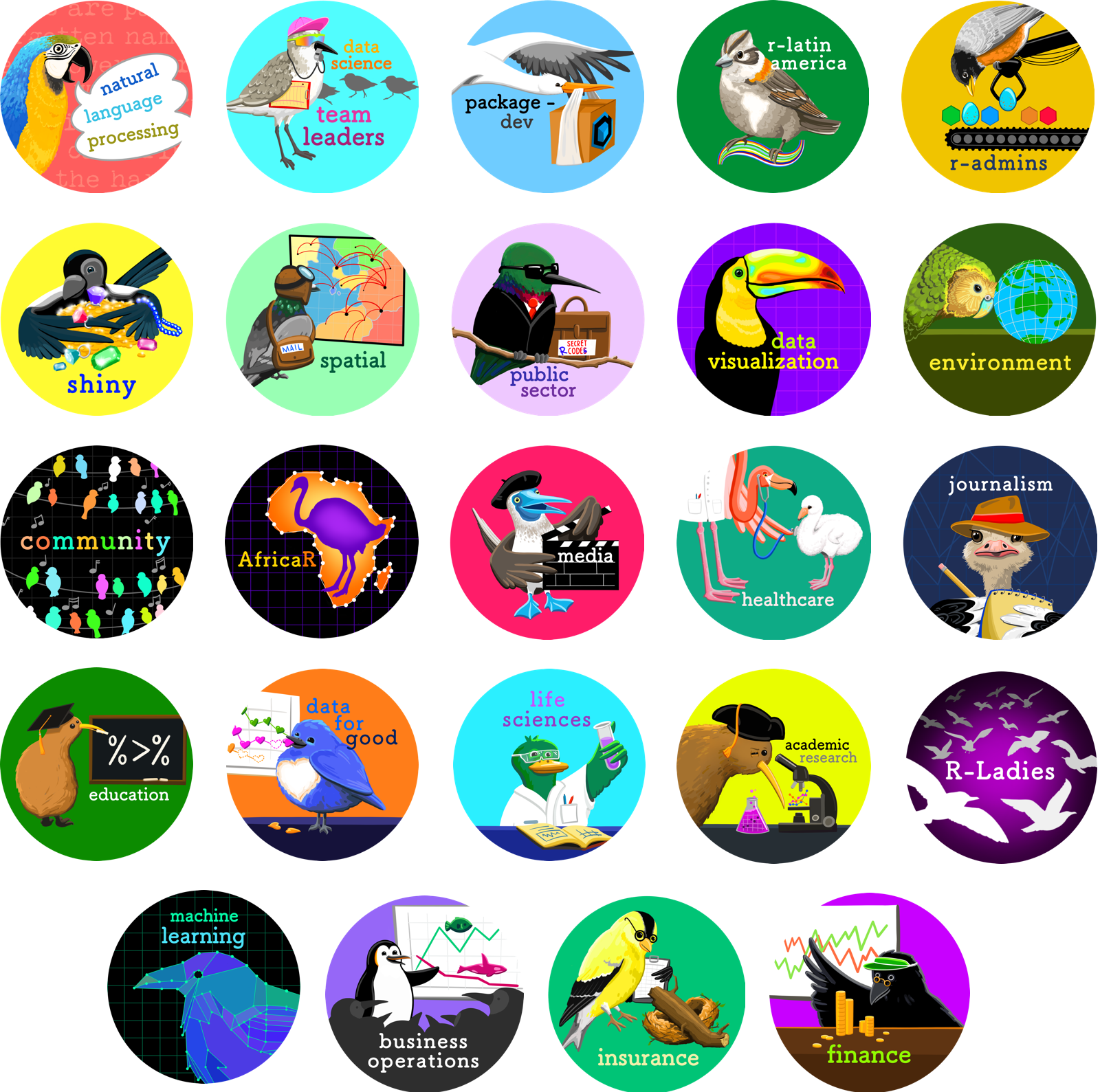 We hope that everyone can find a bird that they relate to, and we look forward to meeting many of you at future RStudio Conference BoF sessions!
So, just one final question: Which bird(s) are you?
Posted on:

March 6, 2020

Length:

4 minute read, 836 words