What have I been reading?
By Yanina Bellini Saibene
May 20, 2023

Since late 2021 I started reading in English to learn the language. Read helps me to increase my vocabulary, recognize writing patterns, and discover common phrases.
Of course, it is an excellent excuse to discover new writers.
I always had to read technical English (because of the career I chose, all new material is always in English) but it is very different to read a non-technical text.
I started with the recommendations of a very good friend. The Lady Trent series by Marie Brennan was the one. It took me months to read the first book with my dictionary by my side (paper and digital). It is a very funny feeling being reading and, at some point, getting to an entire paragraph and having no idea what it means :-).
By the middle of 2023, I have managed to have a reading speed similar to what I have in Spanish, and I hardly need to use the dictionary anymore.
These are the book I read:
I have enjoyed each one of them. It is incredible to discover new authors and converse with them in a language other than my native tongue.
I have several more in the reading and even more, waiting for me. So I will be sharing them.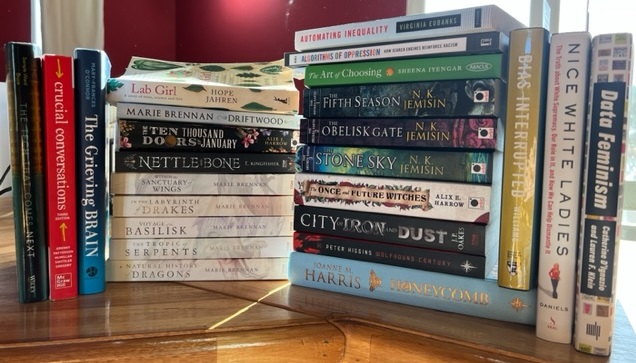 Posted on:

May 20, 2023

Length:

2 minute read, 309 words